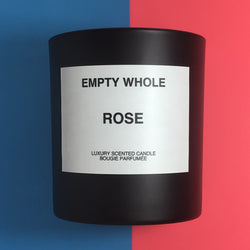 Classic Rose - Luxury Scented Candle
Introducing the Classic Rose Luxury Scented Candle available exclusively from Empty Whole.
Enjoy our extraordinary interpretation of the timeless Rose scent that embodies the spirit of romantics worldwide.
Perfect for your home, apartment, bedroom, bathroom, and other relaxing setting or date night.
Notes:
Top: Sage, Lemon, Mint
Middle: Lavender, Violet
Base: Rose Petals, Amber, Patchouli
230g / 8oz. One candle offers a burn time of approximately 60 hours.
Empty Whole luxury scented candles are responsibly made with clean soy wax, combing with our blend of the finest fragrance oils sourced from around the world, and hand-poured by artisans into our signature matte black glass vessels.
Vegan, Cruelty-Free, and Paraffin-Free.
For a more enjoyable burning experience, trim your candle wicks with an Empty Whole Wick Trimmer before each use.
For Candle Care and Burning Instructions, please refer to our Candle Burning And Safety Guidelines.