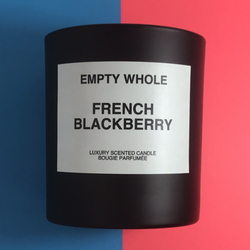 French Blackberry - Luxury Scented Candle
Introducing the limited edition French Blackberry Luxury Scented Candle available exclusively from Empty Whole.
Inspired by our team's time in France, reminiscent of the fruit and lavender which provided the most amazing olfactory experiences that filled us with joy and dreams.
Notes:
Top: Pineapple, Peach, Berries
Middle: Clove, Cinnamon, Vanilla
Base: Lavender, Cypress, Musk
230g / 8oz. One candle offers a burn time of approximately 60 hours.
Our luxury scented candles are responsibly made with 100% clean soy wax, combined with our blend of the finest fragrance oils and resources procured from around the world, and hand-poured by artisans into our signature matte black glass vessels.
Vegan, Cruelty-Free, and Paraffin-Free.
For a more enjoyable burning experience, trim your candle wicks with an Empty Whole Wick Trimmer before each use.
For Candle Care and Burning Instructions, please refer to our Candle Burning And Safety Guidelines.